The Sound of Us
by Julie Hammerle
Release Date: June 7th 2016
Entangled Teen
Kiki Nichols might not survive music camp.

She's put her TV-loving, nerdy self aside for one summer to prove she's got what it takes: she can be cool enough to make friends, she can earn that music scholarship, and she can get into Krause University's music program.

Except camp has rigid conduct rules—which means her thrilling late-night jam session with the hot drummer can't happen again, even though they love all the same TV shows, and fifteen minutes making music with him meant more than every aria she's ever sung.

But when someone starts snitching on rule breakers and getting them kicked out, music camp turns into survival of the fittest. If Kiki's going to get that scholarship, her chance to make true friends—and her chance with the drummer guy—might cost her the future she wants more than anything.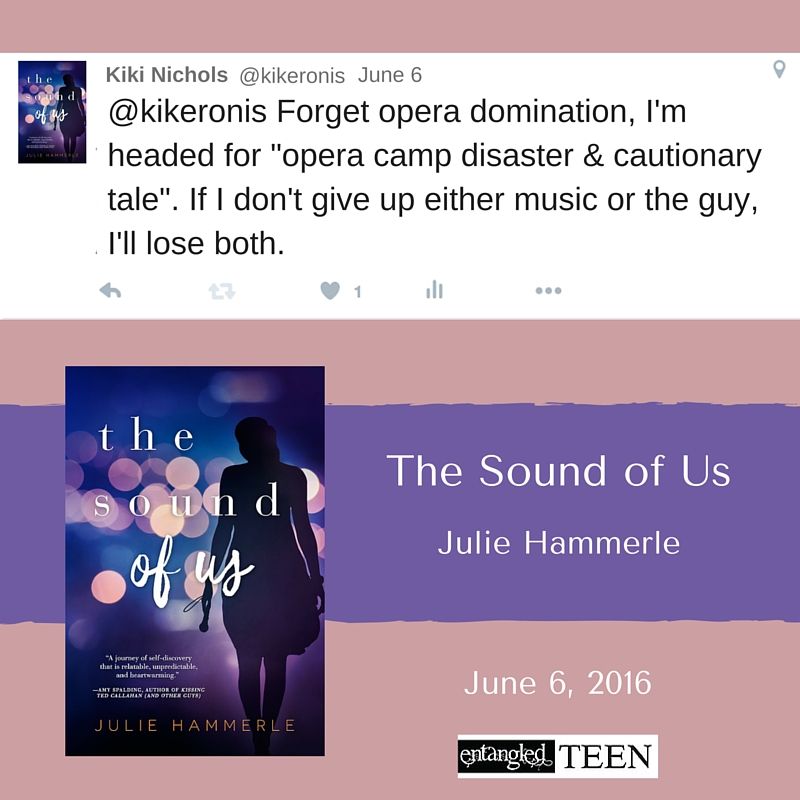 Author Julie Hammerle graciously agreed to let us interview her so let's take a look at what she has to say.
What drew you to this genre?
I love anything having to do with high school—books, TV, movies, you name it. I especially love high school romances, because the possibilities are endless. Nerd on nerd. Jock on nerd. Jock on jock. Wallflower on jock. Wallflower on head cheerleader. And on and on and on.
How did you come up with the title?
Ha! My editor came up with the title. I'm terrible at titles. A book I'm working on now was called "Basketball Grandma" until very recently.
Can you tell us more about the main character(s)?
Kiki Nichols is a 17-year-old TV geek and opera singer. She winds up getting accepted to a prestigious voice camp for the summer, and is headed down to Indianapolis for six weeks. She's a bit of a loner, and is more comfortable chatting about shows with strangers on Twitter than she is striking up a conversation with someone in person.
Where do your ideas come from?
They usually come when I least expect them and often when I don't have a pen and paper to write them down.

What has been the toughest criticism given to you as an author?
I've been blogging for a while, so I think I've heard it all. For me, the hardest "criticism" for me to take is when someone calls me out for making a factual error—and they're right. I know mistakes happen, but I really don't like looking like an idiot.

What has been the best compliment?
I took a creative writing class on a whim in college while I was studying to be a teacher, and the professor told me that I should be a writer. That was the first time anyone ever led me to believe I could do this for a living.

Do you prefer fuzzy or tube socks?
No socks! Bring on the sandals! And the pedicures!

Do you go out of your way to kill bugs? Are there any that make you screech and hide?
I have two kids. I let them kill the bugs now.
If you could be any famous person who would it be and why?
Oprah or JK Rowling. For billions of reasons.
What's your hidden talent?
I can curl just the very tip of my tongue backwards, which doesn't seem like much, but it's something I've never seen anyone else do. I also have two different earlobes, which means I'm a mutant. I'm waiting for my acceptance letter to Xavier's School for Gifted Youngsters.
Please describe yourself using four words only.
Sarcastic, smart, punctual. Ravenclaw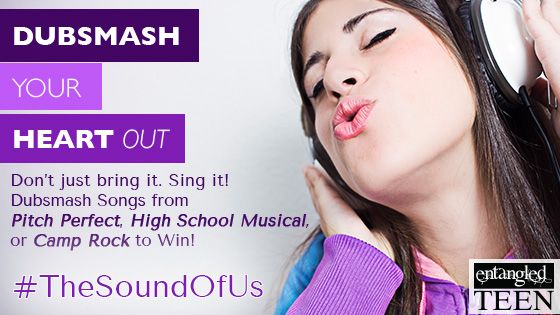 From the music app on my phone, Ani DiFranco belts out a choice insult just as Brie bursts through my dorm room door, crosses the room, and plops a giant cardboard box on the other bed.
"I guess we're roommates," she says. There were a bunch of boxes in the room when I arrived, and I wondered who they belonged to. I suppose that mystery is solved.
I scramble to stop Ani from singing anything else we both might regret later and I look up just in time to see Seth Banks crossing the threshold into my dorm room, carrying another larger, heavier box over to Brie's side.
"Hi," he says. "Kiki, right?" He knows my name. Seth Banks somehow knows my name.
I nod, and sneak a glance at the mirror on the wall next to my bed, assessing myself against the two model-caliber people in my dorm room. I'm still wearing the cat dress. My frizzy hair is up in a messy bun, but the effect actually works with my blue-plastic glasses. I look eccentric, but artsy, which may not be the best look of all time but it is, in fact, a look.
(You're probably wondering who my celebrity twin is. Well, there aren't a lot of women in pop culture who have my body type, i.e. dumpy. I'm too fat to be thin and too thin to be fat. Head-wise, I have the glasses and mouse-like features of Mary Katherine Gallagher from Saturday Night Live with hair like Hermione before someone gave her hot oil help between the second and third movies.)

Brie cocks an eyebrow at me and tucks her bottom lip under her top teeth as she picks up my backpack and drops it on the ground with a perfunctory thud. I had tossed it onto the blue papa-san chair in the middle of our room after I got back from the auditions. "That's my chair," she says. "My. Chair." And then she proceeds to place a six-pack of Diet Coke into the fridge—My. Fridge.—because apparently that's how fairness works.
a Rafflecopter giveaway
Julie Hammerle is the author of The Sound of Us, which will be published by Entangled Teen in the summer of 2016. Before settling down to write "for real," she studied opera, taught Latin, and held her real estate license for one hot minute. Currently, she writes about TV on her blog Hammervision, ropes people into conversations about Game of Thrones, and makes excuses to avoid the gym. Her favorite YA-centric TV shows include 90210 (original spice), Felicity, and Freaks and Geeks. Her iPod reads like a 1997 Lilith Fair set list. She lives in Chicago with her husband, two kids, and a dog. They named the dog Indiana.