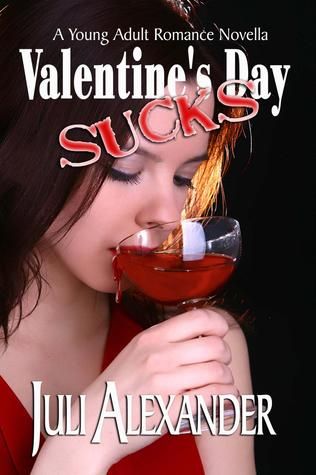 Valentine's Day Sucks
by Juli Alexander
Published January 18th 2012
Who would have thought that a night of babysitting could change her life forever?

Since his little sister bit her in November, Matt Johnson has kept her alive. Only Natalie could have a hot guy climb through her bedroom window every night and have it mean absolutely nothing romantic. Natalie works hard to hide her crush on Matt because the last thing this newly-turned vampire needs to deal with is a broken heart. Her insecurities about Matt come to a head when the mothers insist on them going to the Valentine's dance together. Will this Valentine's Day suck worse than all her previous Valentine's days?

Natalie is a young teen who was recently bitten while babysitting and is now a vampire. Thanfully, she's had Matt who has been helping her with her transition and providing her with synthetic blood.
A truly enjoyed reading this young adult vampiric romance novella as it shows that love does conquer all even if you are a vampire. A sweet story line that moved along too fast for me because it was over before I wanted it to be. The characters could very well be your next door neighbors and friends and the developing relationship between Natalie and Matt was developed beautifully.
​

​