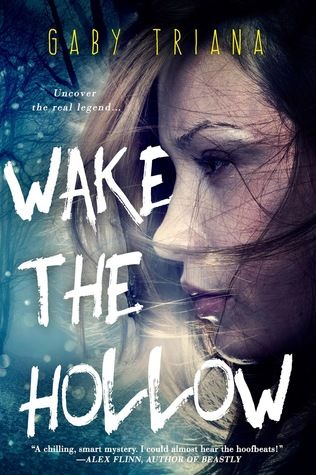 Wake the Hollow
by Gaby Triana
Expected publication: August 2nd 2016
by Entangled Teen
Forget the ghosts, Mica. It's real, live people you should fear.

Tragedy has brought Micaela Burgos back to her hometown of Sleepy Hollow. It's been six years since she chose to live with her father in Miami instead of her eccentric mother. And now her mother is dead.

This town will suck you in and not let go.

Sleepy Hollow may be famous for its fabled headless horseman, but the town is real. So are its prejudices and hatred, targeting Mica's family as outsiders. But ghostly voices carry on the wind, whispering that her mother's death was based on hate…not an accident at all. With the help of two very different guys—who pull at her heart in very different ways—Micaela must awaken the hidden secret of Sleepy Hollow…before she meets her mother's fate.

Find the answers.

Unless, of course, the answers find you first.

OMG!!! This retelling of The Legend of Sleepy Hollow surpassed all my wildest expectations and then some. The cover is stunning and the author's creative take on this ghostly read is simply outstanding. I was on the edge of my seat throughout this read that captivated me from beginning to end. This is an ominous read that will delight and scare you.

​
{I received an eARC via NetGalley from Entangled Teen. I made no guarantee of a favorable review and the opinions expressed here are unbiased and my own.}