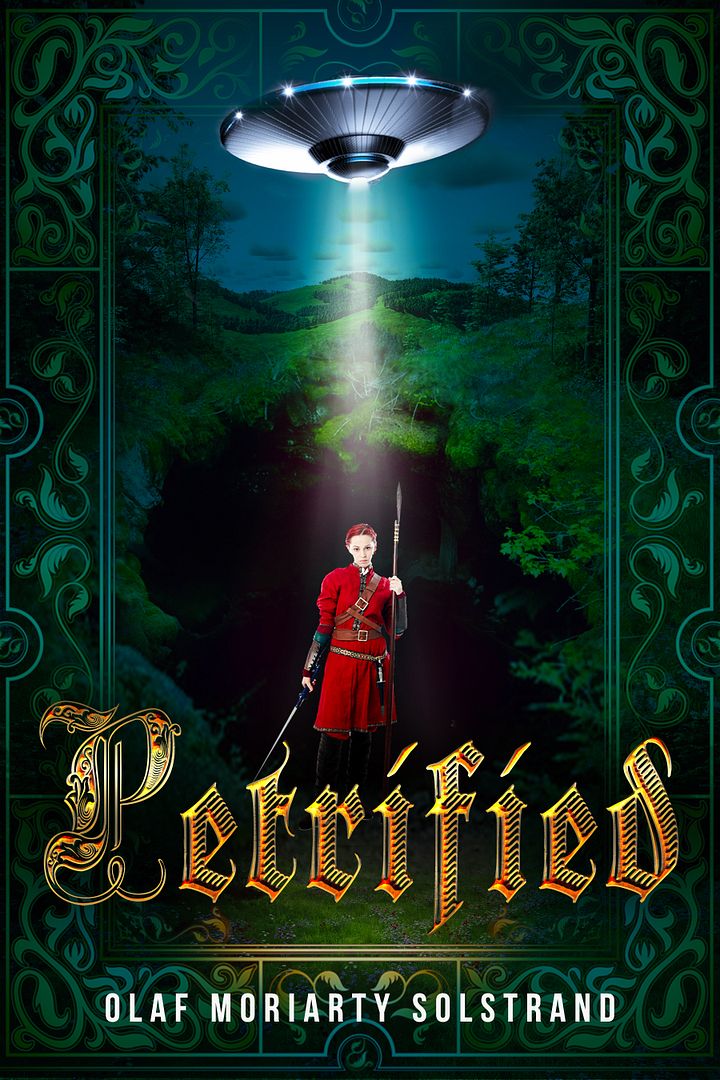 Petrified
by Olaf Moriarty Solstrand
Genre: YA Fantasy/Sci-fi
Release Date: September 2016
Gunhild is a private in the Royal Army. She's headstrong and reckless, but she's also the best troll hunter in the country, and when a troll gets away with a national treasure, she's the only person with any chance of getting it back.

Kirabo was on his way home to Aberash after a fulfilled research mission, but he managed to enter the wrong coordinates into his spaceship. Now he and his PA robot are stranded on a far-off planet, and they don't have enough fuel to get back home.

As genres collide on Troll Island, Earth, the troll hunter and the space explorer have to overcome their differences and work together if they want to survive this fairytale.


The troll struck at her again and Gunhild managed to parry the blow, but she didn't see the next strike coming. She was pushed off the mountain crag and landed hard on the soft grass. The troll came slowly towards her and Gunhild tried to get up but her whole body was in pain. She suddenly noticed that she didn't have the sword anymore before spotting it lying in the grass a few feet away. She tried to reach for it but noticed that she was dizzy after the fall and she couldn't move her left arm, which had suffered most of the blow from the troll. She tried to think things through. If she could only manage to crawl over to the sword and grab it and somehow keep the troll distracted until the sun rose, this could still end well. But how on earth would she do it? The troll was getting nearer and was taking his time on purpose as if to tease her. Gunhild needed a miracle. She needed a god. Suddenly Gunhild realized what her only option was. She had no god, but she had something that was almost as good: she had Balder.
Gunhild quickly took hold of the whistle that hung on her leather belt and blew a couple of blasts, almost like a short melody.
Please, Balder, she thought. Please be awake and close now.
Now the troll was right next to her and it stood bent over her as she lay on the ground almost lifeless. Gunhild felt her energy slowly coming back and that she was almost strong enough to stand up again, but without the sword she had no chance against the troll standing there examining her. Suddenly the troll turned its head, confused. It heard the same thing that Gunhild heard: something was approaching at full speed. At full gallop. The troll then turned and saw what had to be one of the biggest bull moose it had ever seen. Gunhild smiled, exhausted.
"Good boy, Balder," she said softly to the moose. "Sorry I had to ask for your help, but…"
Gunhild didn't need to say more. The moose realized immediately what had to be done and ran toward the troll with its antlers lowered. The troll saw it, confused. He raised his hand to strike Balder, but the moose managed to avoid the strike at the last moment. The troll was even more confused when Balder turned and took yet another run at full speed toward the troll with its antlers lowered. The troll looked put out, as if it did not quite understand why this moose thought that it was a threat to an adult troll. Nevertheless, Balder was coming at him and the troll struck at it again, but once again Balder was able to twist away. When Balder then fled, the troll was provoked and started to go after him as fast as he could. This was the signal Gunhild had been waiting for: now that the troll was distracted with Balder, she managed to stand up again. She took the sword with her right hand and swore, annoyed that she had cut herself ten minutes earlier to lure the troll out of the cave. But she didn't really have a choice: she was not strong enough to hold the sword in her left hand, so she had to use the right. She whistled and Balder came running toward her. The troll turned and tried to grasp what was happening. He just had time to see Gunhild throw herself onto Balder's back and grab onto his antlers to keep herself firmly in place. There couldn't be many seconds left now.
The troll came running at them. Gunhild rode Balder at the troll. "Can we get behind him?" she shouted to Balder, who just about held back from storming toward the troll with a purposeful look. The troll struck at them, but Balder twisted away. The troll struck again, but Gunhild managed to lift her sword and parry the blow at the last moment. The troll lifted his hand to strike them yet again, but just then it happened: The sun rose and the troll was bathed in sunlight.
The whole of the troll's rock-hard skin sparkled for a moment and Gunhild knew he was vulnerable now. The troll realized the same thing and glanced around to try and find a way back into his cave. The caves were now a long way behind it, so it turned and started running. Balder ran up beside the troll and Gunhild stood up on his back, managing with one leap to jump up onto the troll's shoulders. With her final burst of energy, she managed to plunge the sword so hard into the troll's back that the sword tip came out through its chest. The troll grunted loudly in pain before it collapsed on the ground with Gunhild still on its back.
Gunhild was hardly able to get up, but she was safe now. The troll was dying. She had seen this many times before. In fact, the troll lay trembling on the ground. Over the next thirty seconds, the whole big body stiffened in death. There was complete silence and it was impossible to distinguish the lifeless body from one of the boulders surrounding it.
Gunhild managed to get over to the place where she had left her knapsack. She took out a piece of bread and gave it to Balder, who accepted it with pleasure. "Eat up," she said, exhausted. "I couldn't have done that without you." She patted Balder while he ate and nodded to let him know that it was okay if he went back into the forest to rest. Then she found a slip of paper and pencil in her knapsack. She wrote "Mission Accomplished" on the paper and blew another little tune on the whistle. After a few minutes a crow landed on the boulder in front of her. Gunhild attached the piece of paper to the crow's leg and sent the crow on its way again, towards the town. Now her work was done. Now she could finally start back home.
​
Guest Post

Six great Scandinavian fantasy books

Scandinavians love reading. In Norway alone, where we're roughly 5.2 million people, we buy 23 million books every year. Granted, that includes non-fiction, school curriculum, et cetera, but still, we read a lot, and this means we write a lot of books, too. Books of all genres that hold an extremely high quality, but that you may not have heard about if you didn't grow up in Scandinavia.
Fortunately, some of them get translated into English, and that includes books in the genre I'm writing about today: fantasy/YA.
So if you want to get a glimpse of what Scandinavian fantasy writers have to offer, and you haven't read these fantasy books, presented here in no particular order, I strongly recommend checking them out!
Tone Almhjell: The Twistrose Key
Tone Almhjell is something as interesting as a Norwegian author that was first published in English and then translated back into Norwegian after she became a best-seller.
Lin's family has rented a house, and Lin's certain that there's something wrong there: The clocks tick too slowly, frost always covers the flower bed, and eventually, Lin gets a secret key marked "Twistrose" and finds a gate to another world - the world of Sylver, home of every dead animal who ever loved a child. Here, she must find the missing Winter Prince to save Sylver from destruction.
The Twistrose Key was published in 2013, and the long-awaited companion novel, Thornghost, was finally released this summer.
Sara B. Elfgren and Mats Strandberg: The Engelsfors Trilogy
The Engelsfors Trilogy - The Circle, Fire and The Key - was an international sensation that was quickly sold to 26 countries. Some describe it as a cross between Twilight and Fucking Åmål. Others say this is "My So-Called Life meets Buffy the Vampire Slayer in Twin Peaks".
Engelsfors is a beautiful name for a godforsaken town, surrounded by deep forests. On the night of a mysterious suicide, six high school students - Minnoo, Vanessa, Linnéa, Anna-Karin, Rebecka, and Ida, six girls with nothing in common - are drawn to an abandoned fairground where they must understand their mysterious powers and work past their differences to survive the battle between good and evil.
Jostein Gaarder: The Solitaire Mystery
The Solitaire Mystery was first released in 1990 and was the breakthrough book of Jostein Gaarder, well-known for his philosophy novel Sophie's World.
Hans Thomas and his father are driving from Arendal to Athens, hoping to find Hans Thomas's mother. In Switzerland, a mysterious baker gives Hans Thomas a bun containing a miniature book, a book that tells the story of an island where fifty-three people, who'd given themselves names after playing cards, were living. Soon, however, the book and real world start overlapping...
Gaarder has written many amazing books, and I'd also recommend that you have a look at Sophie's World and The Christmas Mystery, but The Solitaire Mystery is my Gaarder favorite. Oh, and don't be surprised if the book gives you a sudden urge to start collecting jokers!
Johan Harstad: 172 Hours on the Moon
Do yourself a favor and read this book. Please. You won't regret it.
It's been forty years since man first walked on the moon, and in order to fund a new trip, NASA organizes a worldwide lottery where three teenagers get a chance to travel to the moon and visit the secret DARLAH 2 base. Mia from Stavanger, Midori from Tokyo and Antoine from Paris are selected for the trip. Meanwhile, on a retirement home in Miami, we meet an old man so senile he can barely remember his own name. He does remember one thing, however: If mankind goes back to the moon, the outcome will be horrible and could mean the end of us all.
172 Hours on the Moon has won a ton of awards, including being appointed the best Norwegian YA book of all time, and has been published in at least eighteen countries. It's Harstad's only YA novel, but he has also written acclaimed novels and short stories for adults, many of which are translated to English.
Lene Kaaberbøl: The Shamer Chronicles
Starting with The Shamer's Daughter, Lene Kaaberbøl's Shamer Chronicles is one of the most popular series Scandinavian fantasy has to offer.
Dina's mother is the Shamer; she has the ability to elicit shamed confessions by looking into someone's eyes. Dina has inherited her power, but with great powers comes fear and hostility, and it is as much a curse as it is a gift. But when her mother is called to Dunark Castle, Dina must come to terms with her power to be able to come to her mother's aid.
Kaaberbøl is also the author of the Wildwitch series, and she's also written the Nina Borg crime thrillers.
Astrid Lindgren: The Brothers Lionheart
This is the only book on the list that does not seem to be available in the Kindle store, but I had to put it on the list anyway.
This children's book, from the author of Pippi Longstocking, tells the tale of brothers Karl and Jonathan. Karl is dying from sickness, so Jonathan tells him stories about the wonderful land of Nangiyala, where he'll go when he dies, and they agree to meet up there. As cruel fate would have it, Jonathan dies first, and Karl doesn't see him again before he dies and ends up in Nangiyala, which is as beautiful as he'd imagined it. But Nangiyala is under attack from a vicious tyrant, and Karl must help his brother prepare for battle…
(A few restrictions I put on myself when making this list: I only list works that are translated to English, which sadly excluded Siri Pettersen's Raven rings, but make a mental note of that name, because it can only be a matter of time before she's published in English, too, and you are going to love her. I made sure that all of these books are available on Amazon, and with one exception they're available for Kindle. I couldn't resist putting one book from 1973 on the list, but since the purpose of the list is to make you aware of amazing books you probably don't know, I tried to steer clear of the classics, including Henrik Ibsen's Peer Gynt and Selma Lagerlöf's The Wonderful Adventures of Nils. They're still definitely worth reading, though. And finally, I tried to show some common courtesy by not putting my own book on the list!)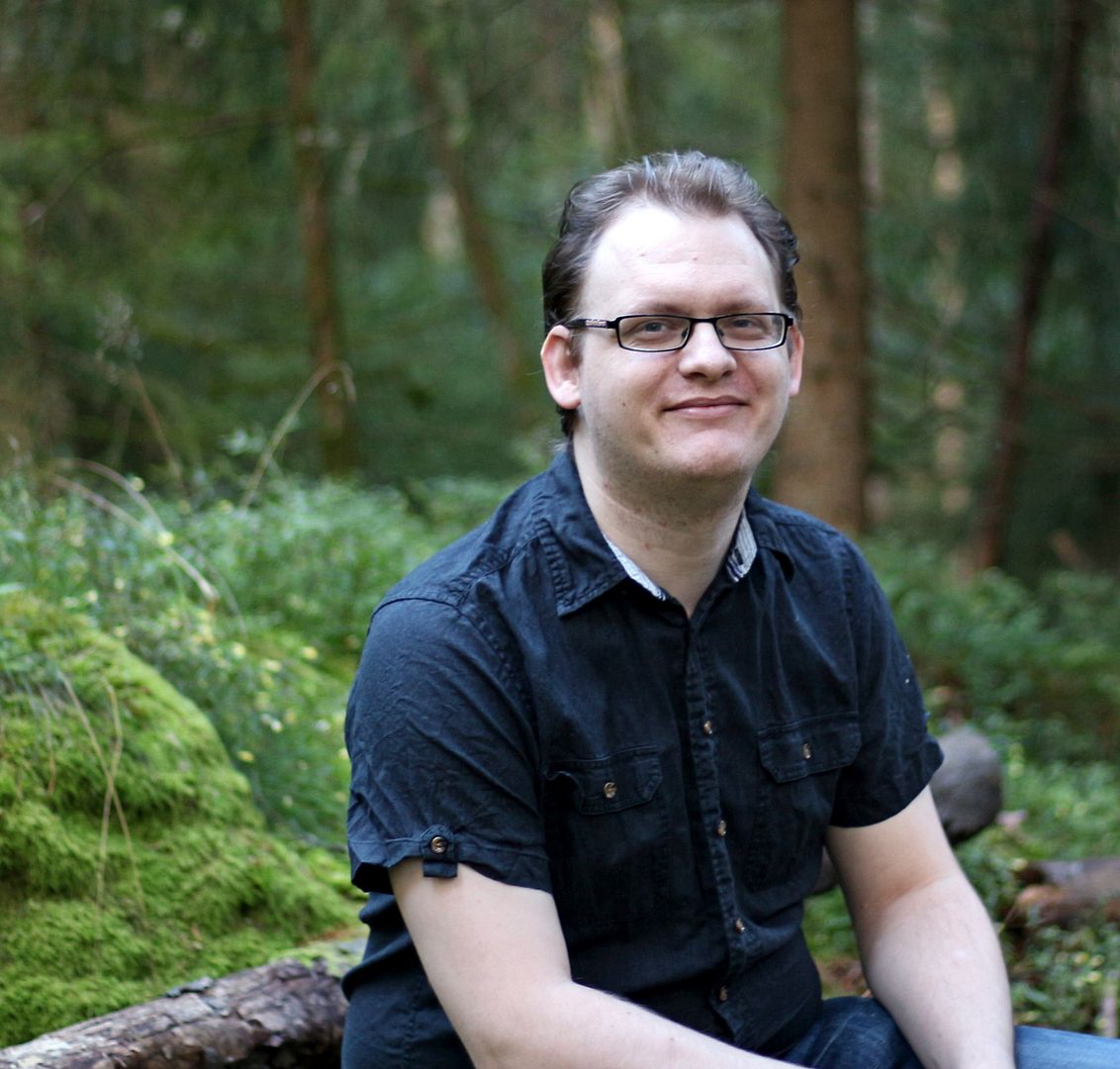 Olaf Moriarty Solstrand (1982-) is a Norwegian writer and librarian, currently living in Ski, Akershus with two lovebirds, one wife and a hyperactive Twitter account.
Since 2001, he has written scripts for more than sixty Donald Duck comics, and his stories have been published in 29 countries. His first novel, Trolløya, was self-published in 2013.
In 2010 he received the Raptus Award for the work he's done for Norwegian comics.
​
Website│Goodreads│Twitter│Facebook
Blog Tour organized by: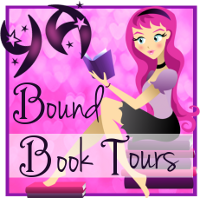 ​