Welcome to our stop of the Unexpected Rewards Blog Tour!
Unexpected Rewards (Not Every Girl #2)
by Jane McGarry
Genre: YA Fantasy
Release Date: August 11th 2016
Clean Reads
Olivia Davenport is looking forward to her future. After all, Prince Liam has professed his love and King William has promised her a reward for her role on a recent mission. She fully expects to continue her knightly training while enjoying a blossoming romance with her Prince. The King, however, has other ideas, appointing her as a lady-in-waiting to Queen Helen.
Thrust into unfamiliar territory and left to fend against the malicious women of court, Olivia feels awkward and confused. With the help of her new friend, Kat, and her sister, Anne, she tries to find her footing among the courtiers, their protocol, and the added complication of Jocelyn Crawford, a lady who has her eyes set on becoming Liam's bride.

When, a disturbing prophecy puts the safety of the King in question, fear spreads through kingdom. Intrigue abounds at the palace with an enigmatic witch and a strict Friar at the center of the controversy. Olivia must use her training and instincts to unravel what is truly going on in order to protect the King. Through it all, she questions if she will ever be able to fit into Liam's life and if, in the end, their love can prevail.
Niobe hunches over a bush at the far end of the garden. Her fingers deftly examine each leaf before cutting those she deems satisfactory off the branch. Does she expect me? Did she request an assistant, or will my arrival be news to her? I'm not too keen to get off on the wrong foot with a supposed witch. Perhaps she will see through the ruse and know I am here to spy on her. My feet inch towards her in trepidation.
Before I am even halfway through my approach, a thin voice travels from her direction. "Please, dear, if you would be so kind, hand me my basket."
I look around, unsure if it is me she addresses. There is no one else in the vicinity, but how she knows I am here is a mystery.
"It's right there. By your feet, on the left."
Indeed, a partially filled basket lies less than six inches from my left toes. I scoop it up, then cross the remaining space between us, somewhat on edge with the whole transaction. When I hand it to her, she raises her eyes to meet mine, one blue, one green. They are surprisingly bright, keen little orbs against her withering face. And, apparently, they have the ability to see behind her back.
"I am Niobe, child. I appreciate your willingness to help me."
Good. At least I was expected.
"My pleasure. I am Olivia Davenport." I hold out my hand. She envelopes it in her own, the skin so paper-thin it is almost transparent, but her grip is firm. In fact, this strength, combined
with the ageless wisdom in her eyes, puts my uneasiness to rest. "Her Highness, the queen, asked me to provide you with whatever assistance you need."
"Thank you, dear. It was good of Helen to be concerned for my welfare." She drops her handful of clippings into the basket while I digest the fact she is on a first-name basis with our queen. "Come, let us go inside where it is warmer."
Her gait is slow, yet purposeful along the uneven path through the herbs. She leads me to a door in the outer wall, just down from the kitchens. When I saw her enter it the day she helped
the young boy, I mistook it for some type of shed or storage room for the gardens. Instead, we step into a well-lit room, heated nicely by a crackling fire. Beyond it, another door leads to a darkened chamber where I can just make out the outline of a low bed. These are the rooms where Niobe works and lives. Not the cave full of cobwebs and dankness I pictured for a witch.
"Have a seat, my dear." She guides me to a plush chair next to the fire.
"So you are here to keep an eye on me, eh?" Niobe's words startle me as she settles into a chair across from mine.
"No, um, just to help you, um…" I am the picture of eloquence, as always.
"And if I just happen to tell you more about the prophecy, well, it wouldn't hurt, right?" The gleam in her eye is knowing, but not malicious.
"No, ma'am," I admit. No sense in pretending. It will be better to start things off with the truth rather than a lie.
"It's Niobe, not ma'am, and I appreciate your honesty. Now let's get to work." She pats my hand. "You and I are going to get along just fine."
Book One:
Not Every Girl
by Jane McGarry
Genre: YA Fantasy
Release Date: April 27th 2015
Clean Reads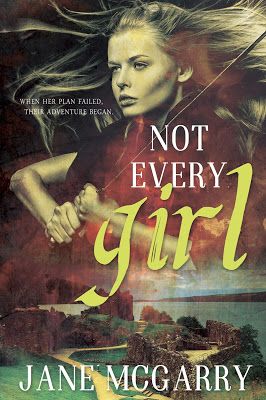 Olivia Davenport's plan is destined to fail.

She is going through with it anyway, of course. After all, it is the chance of a lifetime. The unreasonable rules of others should not stand in her way.

In her small kingdom of Stewartsland, Olivia trains with the squires and harbors a secret dream. She longs to become a knight under the command of the Master-of–Arms, who just happens to be her father. He has indulged her passion so far, but they both know a simple fact – girls may not attain knighthood. Dismayed by the constant discouragement of her ambitions, she makes an impetuous decision to disguise herself as a boy in order to sneak on a mission. The consequences are not at all what she anticipated.

When her deception is revealed, she is sent home in disgrace; however, an unexpected turn of events puts her at the center of a dangerous plot against the King. The ensuing adventure finds her grappling with mercenaries and outlaws, yet these pale in comparison to her newly awakened emotions. She finds not only her life at risk, but also her heart, when the aloof Prince Liam begins to affect her in ways she never thought possible. In the end, it is her courage and unique spirit which must guide her through the challenges she encounters both physical and emotional.
About the Author
​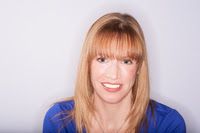 ​
Reading was always a big part of my life. Creating my own stories developed out of this love. Finally, I decided to try my hand at writing a novel and that was when Not Every Girl was conceived.
I live in New Jersey with my husband, two sons and an extremely spoiled cat. When I am not running around with my family or writing, I can be found curled up with a good book and said cat. It is my belief that a good book, a loyal pet and anything made of chocolate can brighten just about any day.
Author Links: