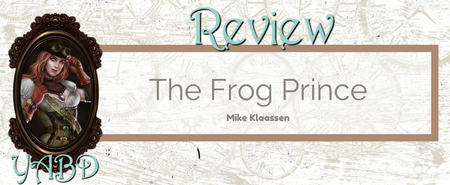 The Frog Prince: The Brothers Grimm Story Told as a Novella
by Mike Klaassen
Published January 18, 2017
A CLASSIC TALE AS NEVER BEFORE TOLD: Long ago in magical realm, seventeen-year-old Prince Gerit reneges on a promise and is turned into a frog. He struggles to adapt to living in a frog's body, feeding himself, and avoiding predators, and then he sets off to find a princess who can undo the spell. Gerit finds Princess Anneliese, but she refuses to kiss him. In a stalemate that forces them to spend time together, Anneliese and Gerit learn to enjoy each other's company. When Anneliese is faced with marrying a man she does not love, Gerit persuades her to kiss him and turn him back into a prince.

I read this while waiting for an appointment for my daughter and I must tell you that the people around my probably thought I had lost my mind as I found myself laughing out loud a couple of times. I loved how smoothly this retelling went, and the author truly took his time in making this a descriptive read which pulls you into the world of The Frog Prince. Readers of all ages will certainly enjoy this story.

​
​
{I requested a copy for reviewing purposes and made no guarantee of a favorable review. The opinions expressed here are unbiased and completely my own.}